It is becoming ever important that we are mindful of our children's activity. Not too long ago we moved much more often. We went outside and climbed tree's. We had nothing but a ball and created new games to play all the time. We interacted.
According to ABC news online - "not even one in five Australian kids age between 5 to 17 get anywhere near the recommended 60 minutes of physical activity a day". With this statistic in mind, we know as a society we need to be doing more to make sure our kids are moving. Life-long habits can be installed from a very young age, and if these habits are to be sedentary whenever they can, this will last a life time.
As sports coaches, we must burden this responsibility and ensure that any activity we put on is engaging, child centred and fun. While we face stiff competition from Playstations, Xbox's and Social Media – nothing beats being outside and interacting with friends! Let's get back to making this exactly what every child does for fun.
Monthly Competitions
October Skill of the Month - The Reverse Cruyff (Rabona fake)
This month's winner is Kai Moffat. Kai is another player which has been with KIKOFF for a few years now. Winning a skill competition comes as no surprise, with Kai being a very technical players – he has a wand of a left foot!
October Skill of the Month – The Zidane Roulette
Meet Our…
Head Coach - Dan Kitchen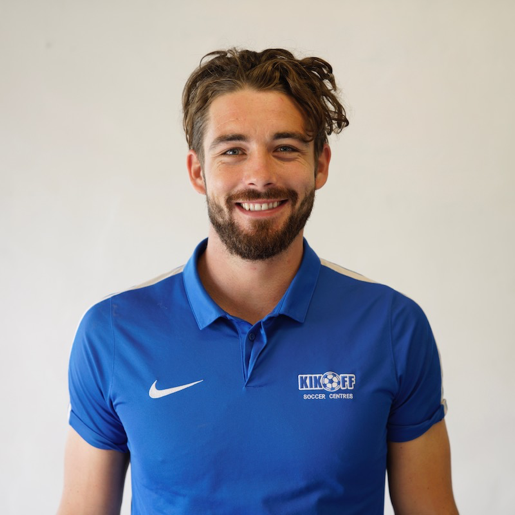 How long have you been at KIKOFF? Almost 2 years.
What is your favourite football team? Manchester United.
What position do you/did you play? Right winger, but have become a striker!
Who is your favourite footballer and why? Eric Cantona. He had the ability to change the game on his will, and had charisma in abundance.
Other than football, what other sports do you play? Enjoy a game of tennis and used to swim loads as a kid. I've boxed a little and I'm always in the gym!
Do you have a fun fact? Lobster's are the only creature that can swim backwards, humming birds are the only birds that can fly backwards, and Michael Jackson is the only man who has ever danced backwards.
What's Upcoming…
Please click the image below for more info on our Summer Holiday Camps, as a result of parents feedback, we have now launched full week, full day holiday camps in December and January, across 3 locations – for just $199 for the full week!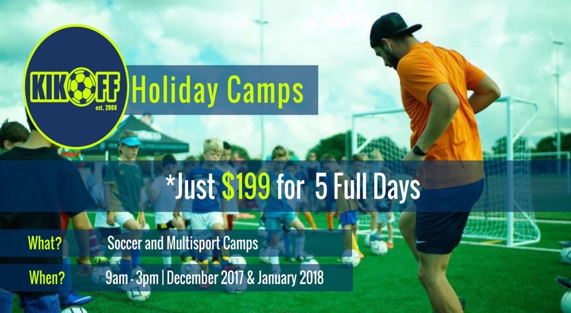 Please click the image below for more info on our 2018 FDS squads: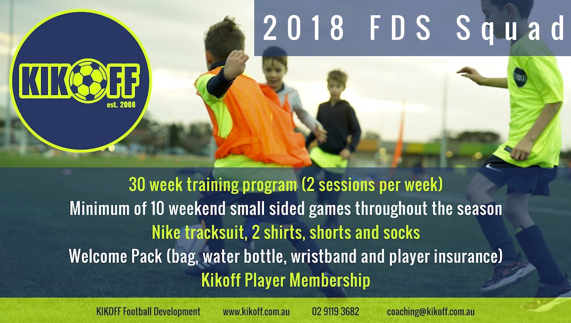 What are you wasting for…
Read the blog post about our Gala Days here
We really appreciate all of you support, and would love you to come and celebrate with us. This year, on Saturday December 16th, we will be holding our first ever gala day. We would love players, parents and coaches from all of our centres to come and get together for one fun day.
We will organise matches where centres play against centres, have loads of fun games as well as get our bubbles out to have some fun in. Will get a BBQ on the go as well to keep you all fed!
We will also be giving out special awards to some players for their work throughout the year
The day will be at our Fraser Park Location in Marrickville, starting at 1pm:
1pm-2pm: KIKSTARTER players/parents
2pm-4pm: SOCCER SCHOOLS players/parents
4pm-6pm: FDS players/parents